Miles McDonald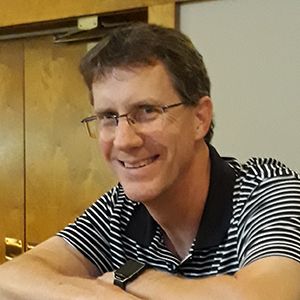 Miles McDonald completed his undergraduate degree in Music Production and Engineering at Berklee College of Music, his master's degree in Business Administration at Baker University, and received his Certificate in Youth and Theology from Princeton Theological Seminary.
Originally from Des Moines, Miles was brought up in the ELCA Lutheran Church, raised his daughters in Episcopal and Catholic schools, and since 2007 has served at GCPC which he dearly loves. Prior to finding GCPC, Miles was the Director of Youth Ministries at Faith Lutheran in Prairie Village and Lutheran Church of the Resurrection prior to that. While working in the audio and video production field in his early career Miles was active in the church and developed a passion for youth ministry.
He and his wife Ronda have two daughters, Anna and Caroline, who continue to humor Miles by pretending to enjoy watching Phineas and Ferb episodes with him.
---
Office hours are Monday-Thursday; Sunday
miles.mcdonald@gcpc.org
913-345-1256, ext #17