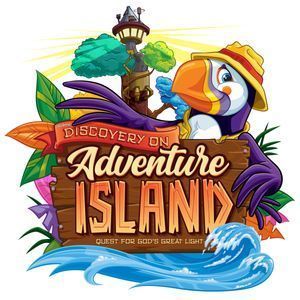 Discovery on Adventure Island
Quest for God's Great Light!
Vacation Bible School, June 6-10
Ages 4 yrs – 5th Grade
Arise! Shine! Your light has come, the LORD'S glory has shone upon you! — Isaiah 60:1
Everyone will enjoy an interactive, energizing, Bible based good time on their quest for God's great light. They will become explorers and discover how God's light shines on us and how we can reflect that light as we live each day.
From a whimsical lighthouse on an enchanted island, Explorers are guided by a Lighthouse Keeper and Beacon the Puffin on an exciting quest to find five mysterious Infinity Lanterns to help light their way. Using map coordinates from the Reference Book (the Bible), children discover clues to finding each Lantern while learning how God's light shines in the lives of familiar biblical characters in Old and New Testament stories.
VOLUNTEERS NEEDED:  We will need plenty of helpers and supplies for VBS.  If you would like to volunteer to be a leader or help with supplies, please contact Rev. Sue at sue.trigger@gcpc.org.
Connect with us in our private Facebook group created just for our 2022 VBS! It is called "GCPC's Discovery on Adventure Island Vacation Bible School." Click link below. A Lightkeeper will approve your request and get you in!
---
VBS REGISTRATION