Coping and Hoping Through the Time of Covid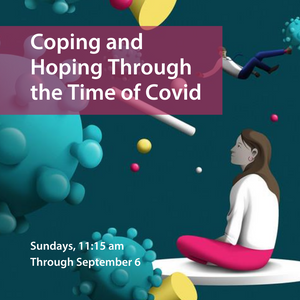 Adult Sunday School
Sundays, 11:15am via Zoom
These are very strange times, none of us has any experience living through a pandemic!  So how do we live our Christian faith while staying away from others and negotiating the complexities of keeping our lives afloat in the time of Covid?  How do we keep our spirits up and remain hopeful in the face of all the bad news? 
Please join us as we explore answers to these questions, guided by thoughtful materials from Duke Divinity Professor, Kate Bowler.
Led by: Cindy Schendel and Jean Hampton
Join Zoom Meeting HERE
Meeting ID: 883 8451 2829
Passcode: 536945
4 Sundays beginning August 16 at 11:15 am
August 16 - Living with Uncertainty
August 23 - Hope vs Optimism
August 30 - Independence vs Interdependence
September 6 - Aloneness vs Loneliness
---
Class Materials
Session 1 Handout (Microsoft Word file)

Session 1 Handout (Microsoft Word file)

Angela Krug found this article which is very relevant to the discussion in our first class.