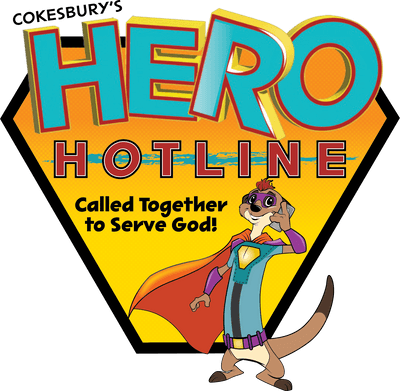 Hero Hotline
Called Together to Serve God!
Vacation Bible School, June 5-9, 9am-Noon
Ages 4 yrs – 5th Grade
In the depths of a colorful underground cave, is the beating heart of the hero community, the Hero Hotline Headquarters where everyone's gifts are valued, and every hero has a role to play. Each day at the Hero Hotline Headquarters, superheroes of all ages and abilities answer the call and join the Professor and veteran hero, Super Meer the Meerkat, to provide expert assistance and solutions to Hero Teams everywhere.
As kids (called Heroes) experience these stories through music, drama and storytelling, games, arts and crafts, science, and even snacks, they'll learn that Heroes are called to Follow Jesus, Help Others, Work Together, Listen to God, and Show Grace! And, best of all, they'll be invited to answer this call at VBS, at church, at home, and every area of their lives.
Volunteers Needed!
Ring a ling a ling! Yes, that's your phone ringing. GCPC vacation bible school heroes in training are calling and they need you! Will you answer the call?  Our VBS planning team is now forming and we have room for more helpers. This group will meet occasionally over the next few months to put our plans together for another great VBS.
We are also looking for volunteers to help at VBS this summer. We bet you'd make a great music, craft, bible story, snack, recreative or science leader. Maybe you'd thrive as a hero commander that travels from activity to activity with a small group of kiddos. We have a job for all willing hands. Together, we will live out our Hotline verse: "So let's strive together for the things that bring peace and the things that build each other up." Romans 14:19
To inquire or volunteer please contact Rev. Sue at sue.trigger@gcpc.org or 913-345-1256. Thank you!
Connect with us in our private Facebook group created just for our 2023 VBS! It is called "GCPC's Hero Hotline Vacation Bible School." Click link below. A Hero will approve your request and get you in!
---
VBS REGISTRATION