---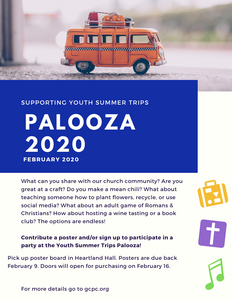 Palooza 2020
Thanks for joining in the fun of Poster Palooza 2020!
Building community at GCPC and across the country.
A new fundraiser for Youth Summer Trips
Poster Palooza is about BUYING not BIDDING!
Buy your spots in parties, events, services that sound fun to you!
---
KEY DATES:

Pick up poster board in Heartland Hall starting January 26th
Return posters by February 14th - leave in Heartland Hall
Join in the fun of buying spots in parties on February 16th at 8:30.
Purchasing will close March 1st at noon.

PARTICIPATE IN 2 WAYS:

1. Create a poster.
2. Buy a spot in a party.
CREATE A POSTER

• Share your passion, knowledge, service or skills.
• Teach a group to bake, to sew, do makeup.
• Host a slime-making party, host a book club, a tasting party.
• Teach someone how to use social media, recycle, play games.
• The options are endless!

INCLUDE THESE COMPONENTS ON YOUR POSTER:

TITLE – Grab your audience! Tell what your poster is all about.

DESCRIPTION – Details of specifically what experience, service or item you are providing. Is the event on a specific date? How long will you provide your service? How many of your item* are available? Give the potential buyer the information they need. (*If there is an item involved, it should be delivered directly to who buys it after the event, it does not need to be brought into church.)

AMOUNT – What does it cost? Think about your costs in materials, supplies and your time. Don't undervalue your talents!

NUMBER AVAILABLE – If this is an event-a class or a party-, how many can attend? If this is a service, how many times will you provide the service? If this is an item, how many of the items will you provide? On your poster, you need to have a line for each person purchasing to write their name and contact information.

POSTER CREATOR – List your name and contact information.
BUY A SPOT ON A POSTER!

Beginning February 16th, stop by Heartland Hall
Join the fun of shopping the parties and purchase your spots on the ones that interest you.
Don't miss out! Spots will go quickly!
Questions?
Contact Miles McDonald, Director of Youth Ministries, at miles.mcdonald@gcpc.org, or 913-645-9617.