Get ready to join the Knights of North Castle on a quest for the King's armor!
Vacation Bible School, June 1-5
Ages 4 yrs – 5th Grade
At GCPC's Vacation Bible School, we will head to the frozen north land where we will become brave knights who will learn to be strong in the Lord. Kids from 4 yrs – 5th Grade will have a great week exploring Old and New Testament stories as they discover the protective armor of God – the belt of truth, the breastplate of justice, the shoes of peace, the shield of faith and the helmet of salvation (Ephesians 6:10-20). Music and art, science and recreation, storytelling, snacks and more will combine for a high energy week of fun and learning you won't want to miss.
We always need a team of leaders at VBS.  If you would like to lead an activity, take a class from activity to activity, help with snacks, or decorate, please contact Rev. Sue at sue.trigger@gcpc.org.
Join our special Facebook page with information and highlights of VBS:  Knights of North Castle, Grace Covenant Presbyterian, Overland Park, KS.  This page is designed for participant's families and VBS leaders alike. 
---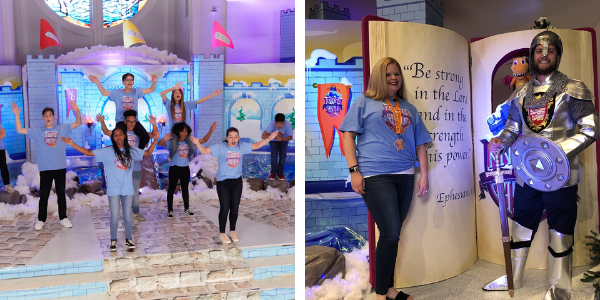 Would you like to volunteer?
Contact Lindsay Bucl at lindsaybucl@gmail.com.
Hear ye! Hear ye! Calling all Crafty Princesses and Knights of the North Castle!
We are getting excited for our next Vacation Bible School, and we need your help. If your Royal schedule permits, please join us in yonder Christian Education Office during the Sunday School hour in the month of February to make decorations and share ideas (10am on February 9, 16, 23). You can also pick up a "kit" to work on at home. Other "creative work dates" in February are the 12th and the 16th, 6-8pm at GCPC.
Thank you for sharing your creative gifts and God's love with our GCPC kiddos in their Quest for the King's Armor!
---
Follow GCPC Knights of the North Castle on Facebook!  
Search for:  Knights of North Castle, Grace Covenant Presbyterian, Overland Park, KS
Or, click here! 
---
VBS REGISTRATION