(COVID-19 Update 2/24/2022)
The Session voted at the February 21 meeting to return to in-person worship on Sunday, February 27. (Sunday services will continue to be available online via Zoom and Facebook.) The Session also voted to implement a new guideline regarding the requirement of masks inside the GCPC facility. We will monitor metrics from the Johnson County Government and when COVID positivity rates are 8% or above, we will require masks inside the GCPC facility; when below 8%, masks will be optional. This same guideline applies to groups meeting in the church at other times of the week. We will include whether it is a mask-mandatory or mask-optional Sunday in the Worship Reminder e-mail sent each week on Thursday afternoons. We will also have signage posted and will note on the worship webpage each week, indicating whether masks are required or optional. 
Please take a moment to review this flyer, which further explains our worship protocols. Thank you for your patience and support as we gradually return to a more "normal" worship experience at Grace Covenant.
(COVID-19 Update 1/29/2022)
Due to the dramatic surge in COVID-19 infections in our area and nationwide, the Session has decided that Grace Covenant will have online services only during the month of February 2022. This is also in effect for adult, youth, and children's classes.
---
(Effective 1/19/2022) - COVID-19 UPDATE
The Session recently made the decision to return to on-line only worship and education classes, due to the surge in COVID-19 cases in our community and in our membership. The plan was to do this through February 6, returning to in-person worship and education classes on February 13.  That remains the plan for now. We are, however, keeping a close eye on the latest developments in our community. The surge may not have its peak by early February and our plan will have to be adjusted. At this week's Session meeting, we've agreed to review our timetable and make any necessary changes by January 29. That way we'll be able to make an announcement at the annual meeting on January 30, which will be an on-line meeting following worship at 10:45am.  We're especially thankful for the many people who have let us know if they test positive for COVID-19. It assists us in determining the impact the pandemic is having on our congregation. —Revs. Mitch & Sue Trigger 
---
In-Person Worship at GCPC
Following the protocols set out by the Session is more than just "obeying the guidelines." It's how we show that we care for the whole body of Christ, not just ourselves. By returning to the church building, we ask that all agree to a covenant of behaviors that is designed to extend God's compassionate care to all worshippers.
Please read this information carefully.  If you require further explanation, or have questions that are not covered in this list, please contact the church office at office@gcpc.org.
---
Worship time changed to 9:30am on Sundays
Beginning on August 22, Sunday morning worship at Grace Covenant was changed to 9:30am, with Christian education classes starting at 10:45am. This schedule will be in effect through the rest of 2021, after which it will be re-evaluated.
There were a number of good reasons for this change.
We felt remaining with one service, for now, would help us all get reacquainted.  The congregation has held two Sunday worship services for a while now and many of us simply don't know some of our newer members or members that tended to attend the service we weren't attending.
The start time of 9:30am keeps us close to the same time we're worshipping now, which folks have indicated to be a favorite time.
It will be easier to have Sunday School following worship, for parents as well as children (or so we've been told by parents!).
Our worship time musicians will be able to attend adult education classes with the change in schedule.
One comment we continue to hear is, "I hope we don't get rid of online worship." We will continue to have online worship as well as in-person worship from now on.  Our online worship has allowed old friends who have moved away keep in touch by worshipping with us online; helped visitors "check us out" before coming to worship with us; ensured that our members & friends can continue to be part of worship whether ill, recovering from surgery, or homebound for other reasons; and guaranteed we can have worship whether it's snowy, icy, or rainy!
At the same time we make this time change, we will also explore new possibilities for fellowship time before and after worship services. Thank you for your patience and peace be with you all!
---
Here's what you need to know:
Online worship will continue indefinitely on Facebook and Zoom.  Online worship service links, and worship information can be found here.
When you arrive ...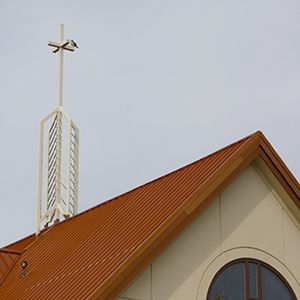 You may enter the church via the Sanctuary entrance (preferred) or the Weekday Entrance.
The Offering will not be collected during the service. You will find a locked box in the back of the Sanctuary where you can put your offering at the beginning or ending of the service.
Congregational singing and spoken prayers are now allowed during the service. (Effective November 22, 2021)
Everyone is expected to wear a face mask when inside the building until further notice.
Following the service, when there are not planned activities, we ask that people move out of the church building promptly after the end of worship and socialize outside rather than inside the building (if weather allows).
---
Here's what to do: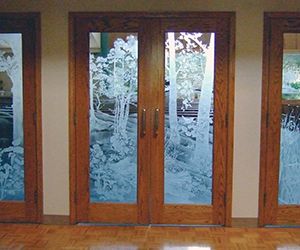 Confirm you are free of COVID-19 symptoms.  If you are at risk of spreading COVID-19 because of symptoms, exposure, or a positive diagnosis, please worship from home. 
Wear a mask the entire time you are inside the building.  Masks prevent you from spreading the virus to others and are one of the simplest ways to love your neighbor. Masks must be worn over the nose and mouth as long as you are in the building.  Exceptions: children age 5 and under, persons with medical conditions that prevent wearing a mask, and those who are hearing impaired.
If possible, continue to give online.  We will not pass the offering plates until further notice. A lockbox will be provided in the back of the sanctuary for you to drop your offering into, but if you are able to give online, that continues to be the safest and easiest option.
Turn off your Wi-Fi.  In order to preserve the most bandwidth for us to stream our service live to at-home worshippers, we ask you to turn off Wi-Fi on your devices during the service.
Prepare yourself for things to be different.  Returning to the sanctuary does not mean returning to normal. Beloved faces will be missing too. You are not likely to get to sit in "your" pew. You may experience a variety of emotions from joy to grief to frustration. Extend grace to yourself, the leadership, and your fellow congregation members. This is hard, but God is with us, wherever we worship.