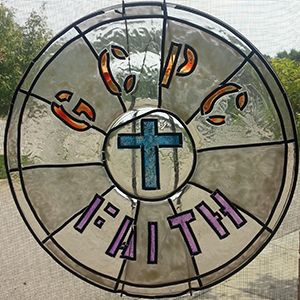 May 1, 2021
In-Person Worship at GCPC begins May 23, 2021!
Following the protocols set out by the Session is more than just "obeying the guidelines." It's how we show that we care for the whole body of Christ, not just ourselves. By returning to the church building, we ask that all agree to a covenant of behaviors that is designed to extend God's compassionate care to all worshippers.
CLICK HERE to read information about our In-Person Worship guidelines.
Online worship will continue indefinitely on Facebook and Zoom.  Online worship services information can be found here.
---
March 17, 2021
We have exciting news to share with you and all the teams, groups and committees of the church!
The Session has set a tentative date of Sunday, May 23 (Pentecost Sunday) to resume in person worship and activities in the church building.  The date is tentative pending the continued decline of Covid-19 and the increase in vaccinations.  Should there be a "third wave" as is occurring in Europe, our date will be postponed.  As of right now, all is looking good!  We will begin detailed communication with the congregation in the April newsletter and other media.
The Session increased the group size allowed to use the church up to 25.  If you wish to have a meeting or event at church, please schedule your meeting with Patrick so that we can maintain safety protocols regarding aeration.  He will also have information for you about our protocols for meeting and cleaning afterwards.  This said, online meetings are still recommended by JOCO.
In order to prepare for resuming in person activities, your team/committee/group should begin to revisit safety plans you have begun working on and create safety plans for activities after May 23.
Here are the current CDC basics we will expect for all activities:
Correctly and consistently wear a mask that completely covers your nose and mouth
Stay at least 6 feet away from others who do not live with you
Avoid crowds – the number allowed in worship and other activities will be determined by the Session in consultation with local guidelines.  The current large gathering recommendation is no more than 50 or 50% of room capacity.  Patrick and Facilities team will help us with these numbers.
Avoid poorly ventilated indoor spaces
Stay home when you are sick.
Wash your hands frequently with soap and water for at least 20 seconds (or use hand sanitizer containing at least 60% alcohol).  We may want to adopt the school practice of sanitizing as you enter and leave the building.
Get vaccinated when the vaccine is available to you
Get tested if you have signs or symptoms of COVID-19, or if you think you may have been exposed to someone with COVID-19.
Remember:  Even if you and others (including children) do not feel sick and do not have any symptoms, you can still spread COVID-19 to family, friends, and community.
Do NOT be around others if you have been exposed to someone with COVID-19, if you are sick, or if you have tested positive for COVID-19.
CLICK HERE to read CDC guidelines for faith communities.  This link includes information that will particularly relevant for worship and childcare planning.
The Worship and Music Team and Deacons will need to send their protocols and recommendations for Sunday mornings to Session for the April 18 meeting for review and approval.
If you have questions or concerns, please contact us or a member of our staff.
Thank you!  Revs. Sue and Mitch Trigger
---
August 19, 2020
Building Use Policy Update
As fall approaches, the Session is working on developing building use policies that reflect the current pandemic situation and how we can continue to serve our members and community. Our top priority, of course, is the safety of all those entering our facility.
At the regular monthly Session meeting on August 17, a motion was made to set the policy that "a group of members with 10 or fewer people can use the building for a church project, as long as they adhere to the established cleaning, mask-wearing, and social distancing protocol, and they schedule the activity with the church office."  The motion passed unanimously.
In accordance with this policy, the group of no more than 10 people must schedule their proposed activity though the church office by contacting Patrick Bell at patrick.bell@gcpc.org. Because staff are not keeping traditional office hours at this time, e-mail instead of calling the  church remains the best means of contact. The proposed activity must be a church sponsored group, working on a church project, and most likely would be scheduled by a Team Moderator or under a staff member's direction. (Outside groups of any size are not allowed to use the GCPC facility at this time.)
When a group is scheduled through the church office, the group contact will be sent a written protocol of expectations regarding use of masks, social distancing, cleaning following room use, etc. Because of social distancing requirements, very few spaces in the church are feasible as meeting locations, and ample time will be made between groups using the same space to allow for proper air ventilation/circulation and cleaning of the space. Therefore, dates and times for meetings will be limited.
Again, the church's main priority is safety. This policy is subject to revision at any time, depending on changes in official guidelines from government health agencies, etc.
- Revs. Sue & MItch Trigger and GCPC Session
---
July 22, 2020
Important Message From the Co-Pastors 
Doing what is right sometimes involves choices that don't feel right. At our July Session meeting, we discussed our hoped for "re-opening" for in-person worship on September 6 in the light of the continually changing conditions. Other churches in our presbytery have tried returning to in-person worship, only to find themselves re-closing. Out of concern for both members and staff, the Session decided to postpone the re-opening of our GCPC building for worship and ministry indefinitely, revisiting that decision on a month-to-month basis.
We recognize that this will be disappointing for some of us and a relief to others. It remains an uncomfortable situation, but we can promise you this: the staff and Teams will give renewed effort to finding the safest ways possible to find new avenues for ministry and fellowship. Our Tech Crew has been steadily improving the quality of our on-line services, with more upgrades on the way. In the meantime, know that your staff, teams, and fellow church members will continue to pray and serve each other in every way possible.

Peace be with you all, —Mitch & Sue
---
June 8, 2020
Session Actions as a Result of the Congregational Survey
At the called Session meeting on June 8, 2020, it was determined that Sunday, September 7 (Labor Day weekend), would be targeted as the earliest possible date for an in-person service. We will continue to only have one service at 10:00 a.m. after that to avoid having to clean in between services. The Facilities team has determined that we can fit 135 people in the sanctuary observing social distancing guidelines. Ushers would be seating people and dismissing people afterwards to help observe distancing while exiting. Deacons will be recording who is attending and ensuring that people are wearing masks. Childcare would be available and the nursery staff will be trained on proper procedures. The kitchen would be locked as there will not be coffee available. There would be no fellowship inside the building but parking lot conversations would be encouraged.
---
March 17, 2020
To the members and friends of Grace Covenant Presbyterian Church,
Last night, in an online meeting, the Session of GCPC decided to close the church to all activities on an indefinite basis, beginning at 1:00 p.m. Tuesday, March 17. This decision was not reached easily, but the best guidance we received from within our congregation, as well as the ever-changing protocols at the local, state, and national levels led us to this action for the safety and health of our members.
What does this mean for the life of GCPC? How will we continue to "be" the church?
As long as the building is closed, here's what won't happen:
No groups will be allowed to meet within the church (which includes AA, KDO, PPS, team meetings, social events, etc.).
There will be no in-person worship services.
We encourage our groups that meet outside of the church building to not meet (book groups, Dinners for 7 or 8, and others). Your health and safety is important to us.
As long as the building is closed, here's what will happen:
We will still have worship. Many of you took part in our first Facebook Live online worship this past Sunday and we've heard many positive responses. We are continuing to explore additional avenues of sharing online worship, but we will continue the Facebook Live for the foreseeable future. Your church staff will continue to prepare worship services each week, unless governmental restrictions don't allow us to meet at the church building. Even in the most difficult situations, Revs. Sue & Mitch will provide a worship experience (even if they have to do it from home!)
We will keep connected. Mitch, Sue, Miles, Rebecca, and your deacons will be in regular contact with all of the members so we can keep aware of prayer needs, as well as practical needs. Patrick will monitor the church mail, the church e-mail, and constantly check for phone messages. We encourage you to leave messages on the church phone system and we will get in touch with you.
We will continue to serve one another. A wonderful group of GCPC members has agreed to be part of a response team, people that will help any of us that needs assistance. If you are home-bound, if you have to be self-quarantined, if for any reason you are unable to leave your house to pick up groceries or sundries, just contact the church and we will work out a delivery. We want to be of help to each other because that is the very nature of what it means to be a disciple of Jesus.
If you need to contact the Revs. Sue or Mitch, please feel free to call their cellphones and leave a message if they don't answer right away. Their numbers are:
Let us keep our families & friends, our Grace Covenant family, and the whole world in our prayers. "For there is nothing in life or in death that can separate us from the love of God in Christ Jesus."
Peace be with you all and we will be in touch!
—The Revs. Sue & Mitch Trigger, Rebecca Prater, Miles McDonald, Patrick Bell, Tara Hyder, Linda Dover, the Session of Grace Covenant, and the many volunteers and members of Grace Covenant Presbyterian.