Christmas Eve Services
Anticipate and celebrate the light of the world…God with us!
Worship with us this Advent and Christmas season as we surround ourselves with music, remember those who are no longer here, meet characters from the ancient Christmas story and discover their messages for us today. (Childcare is not available on Christmas Eve.)
Christmas Eve Services, Tuesday, December 24
5:00pm,  Family service with live Nativity and music by our Exaltation! Youth Choir
7:30pm,  Message of Christmas, Chancel Choir and Candlelight
10:45pm,  Communion, Scripture readings with soloists and candlelight. A moment of stillness.
---
Advent began December 1
December 1 marked the beginning of Advent, and we celebrated with the Advent Fair during the Sunday school hour (10am) in Heartland Hall. The theme of this year's intergenerational event was "Why Advent?" and offered creative opportunities to explore the meaning of the season.
The Adult Ministry team Advent study is "The Living Nativity." The book will be available along with information about the study.  The class will begin December 8 in Room 3.  Contact Rev. Sue Trigger with any questions, or the church office.
---
2019 Advent Devotion Booklet
Giving to others is the highlight of the coming Advent season.  We fret over what to purchase that will please our loved ones. We worry about our holiday decorations, food we will serve, and parties we will attend. In the rush of activities, I hope that you will take a few minutes each day to read and reflect about the greatest gift ever given, God's only Son. Reflection can be powerful for, as you go about your work, your mind will, without prompting, bring back thoughts and images. May your Advent days be filled with rewarding pictures. Note: These scripture passages are taken from the Common English Translation of the Bible and follow the Revised Common Lectionary of Vanderbilt Divinity Library. Other lectionaries from Christian denominations for the Advent season can be just as helpful in guiding your reading of the Bible, such as the Daily Readings for Advent 2019 from the Office of Theology and Worship, Presbyterian Church (U.S.A.). Also, if you prefer to look at other versions of the Bible, please do so as differences always prompt interesting comparisons.
Harold Frye, Ed.D.
---
Acts of Kindness Christmas Calendar for Kids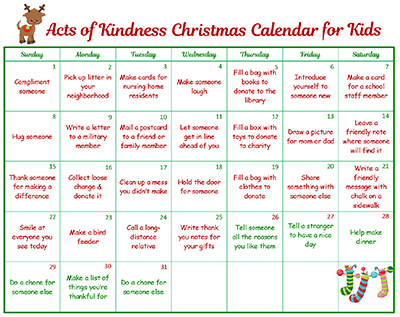 In the spirit of Advent, Mission Team is providing a Random Acts of Kindness calendar for all kids and grown-ups who want to increase the joy this Christmas season. It's a fun and easy way to show children what a positive impact they can have on the world.
CLICK the image to download a PDF.