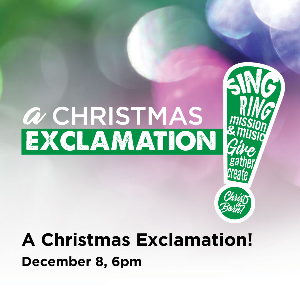 A Christmas Exclamation! Sunday, December 8 at 6pm
If you enjoy children singing, bells ringing and carols swinging, you are in for a treat at our Christmas Exclamation! concert on Sunday, December 8, at 6pm. Hear 4-year-olds through 12th graders singing! Enjoy kindergarteners through adults ringing! Bring your friends, family and neighbors. Pull out those Christmas sweaters and ties or you might even pull out your Santa hat!
We're shaking it up a bit!
We will also be having a fundraiser to help fund the High School Mission & Music trip next June to Milwaukee, Wisconsin. We are flip-flopping and mixing up our fundraisers a bit this year.
From 5:00–5:55pm on Sunday, December 8th (right before "A Christmas Exclamation!" begins at 6pm) come into Heartland Hall to bid on the following:
A reserved parking spot at GCPC for all of 2020.
A reserved pew at GCPC for the 5pm Christmas Eve service.
Guess the number closest to those in the M&M jar and you'll win it!
And more …
We are moving our M&M Candy tube Fundraiser to December this year. You can pick up your candy tube beginning Sunday, December 1st at our 10–11am Advent Fair in Heartland Hall at the Mission Team's table. During the weekdays of Advent place some sort of coins (children), bills or checks (adults) into your empty candy tube. Return the $-filled tubes to the BIG GREEN M&M by Sunday, December 29th in the concourse. The giving back of your M&M $-filled tubes will be part of our "Reverse Advent Mission Giving" this season. Thank you!
---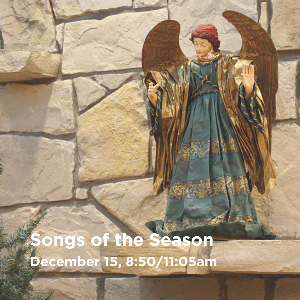 Songs of the Season, Sunday, December 15, 8:50 and 11:05am
Join us as Grace Covenant Presbyterian Church musicians share their love of music and celebrate the songs of Christmas on Sunday, December 15 during our regular worship services. Presented in 8:50am worship by Praise Team with solos and ensembles and presented in 11:05am worship by Chancel Choir with Linda Dover, accompanist, string quintet, woodwinds and percussion. All are welcome!
---
The Longest Night, (Blue Christmas), Sunday, December 22, 7pm
This service is designed for those who find the holidays a not so joyous time, either missing loved ones or in other life circumstances that are difficult. While some Christians are alight with joy during the Christmas season, for many others it is a painful time as they grieve the death of someone they love or the loss of a dream, experience financial concerns, or work through relational difficulties. This service is for those who feel the brokenness of the world at Christmas time. We all need to be reminded that Christ did not enter the world immune to its brokenness. Rather, he experienced it all and overcame death so that we too may join him eternally in a world where there will be no more tears. Led by Revs. Mitch and Sue Trigger.
---
Christmas Eve Services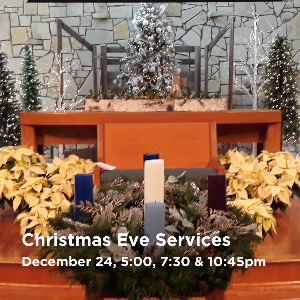 Tuesday, December 24
5:00pm Family Service – Live Nativity – Exaltation! Youth Choir
7:30pm Sermon – Chancel Choir – Candlelight
10:45pm Communion – Scripture – Soloists – Candlelight