One Service Sunday - September 22 at 10am at Quivira Park

On Sunday, September 22, we will have ONE WORSHIP SERVICE (offsite) at 10am at Quivira Park (11901 Quivira Rd, Overland Park, KS 66213 ) with picnic afterwards. Connections & Care Ministry Team is providing a lunch and there will be games for all ages/abilities afterwards.  NO WORSHIP at our Building - Worship is at the Park only at 10am.
Bring your own lawn chairs, blankets, etc. and join with us for worship and fellowship.
LOOK FOR OUR BANNER in the park! If the weather looks bad, please check this calendar listing, our Facebook page and website home page for announcement. We will move to Heartland Hall if event is cancelled at the park due to weather.
---
The Great GCPC Smoke-Off - October 5 at 5:30pm

Great GCPC Smoke-Off // Saturday October 5th
Friday October 4th: Smokers to church in the West parking lot. Contact Steve Becher (email-call church office) if you need help transporting yours
Saturday October 5th:  Let the smoking and grilling begin! You decide what time to start, but dinner is at 5:30pm in Heartland Hall
Saturday October 5th at 2:00pm:  "Make Your Own Spice Rub and Barbeque Sauce Class" with Bill Turner. Pre-registration required to ensure we have enough supplies. Call or email the church office no later than September 27th. If you signed up during the Ministry Fair you're covered. NO CHARGE FOR THE CLASS
Saturday October 5th at 5:30pm:  Dinner and voting (with your wallets) for the best grilled/smoked food. Entire congregation is invited so please bring a covered dish to share.
---
Blessing of the Animals - Saturday, October 5, 10am-Noon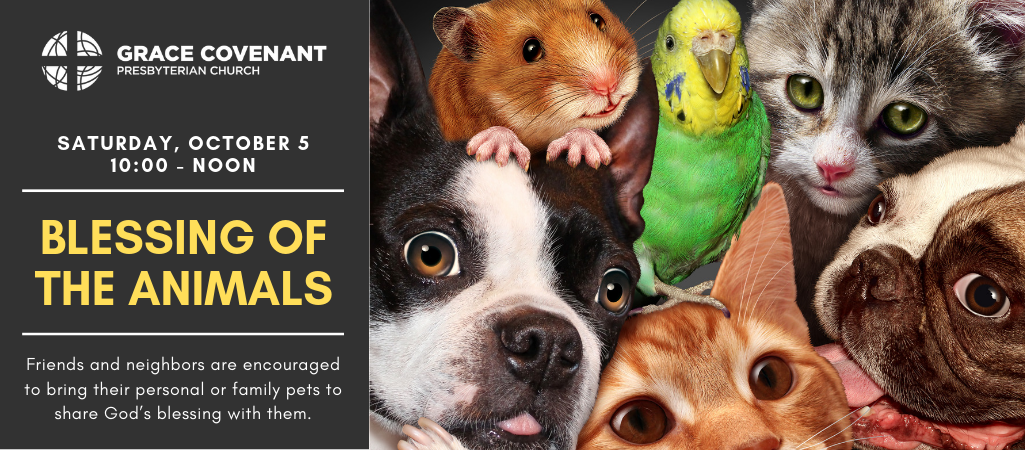 In honor of the special relationships we have with our pets, we will have a "Blessing of the Animals" on Saturday, Oct. 5, from 10am to Noon.
Friends and neighbors are encouraged to bring their personal or family pets to share God's blessing with them. This follows the feast day of St. Francis of Assisi, who loved all God's creatures and followed God's example of kindness, mercy, compassion, and love for all creation.
While we love our pets and want to recognize God's love for all creation, and especially these creatures that make our lives special, a couple of reminders. //  All dogs must be on leashes and other pets (cats, rabbits, reptiles, etc.) should be in carriers.  //  If your pet does not like large groups of people, show your pet some consideration and keep it home.  //  Remember to pick up after your pet just as you would at any other time.  //  We will have water stations for your pets.  //  Children without pets may feel left out – they are  //  encouraged to bring stuffed animals to be blessed!   //  Please share this information with family and friends, and make it an extra special day!