East Hill Singers Concert, November 10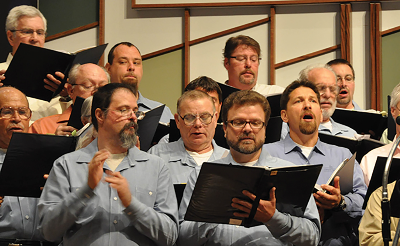 The East Hill Singers will perform at Grace Covenant Presbyterian Church on Sunday, November 10, 2019 at 4pm. The East Hill Singers, from the Lansing State Correctional Facility, consists of inmates from the minimal correctional unit and community volunteers. Arts in Prison, the organization that sponsors the East Hill Singers, identifies them as one of its premiere programs. Offering classes and programs about the arts, serve as major strategies for Arts in Prison to achieve a stated purpose: "… provides life changing programs using art as a medium to inspire positive change in the incarcerated to reduce recidivism and to connect offenders to their communities." According to Arts in Prison, inmates frequently report that the programs help them find hope that they can grow, change, and live productively outside of prison. Examples of program classes include music, painting, photography, public speaking, and drama.
Your presence at the concert is one way of showing the incarcerated person that people do appreciate this time of each singer's expression of art. READ MORE about the concert in our November 2019 newsletter HERE.
---

Thanksgiving Eve Chili Supper and Service
Wednesday, November 27, 5:30pm - 7:00pm in Heartland Hall
Thanksgiving is a time to gather at table to give thanks and praise!  This year we will do just that with a special evening of food and worship at the Thanksgiving Eve Chili Supper.
We will enjoy chili and all the fixin's, cornbread, veggies, and cookies. Kids can enjoy mac and cheese and peanut butter and jelly sandwiches. Then we'll enjoy our GCPC Dixieland Band as they serenade us into worship.  We will stay gathered at the tables for the service this year, and enjoy a time of prayer and praise, sharing and breaking bread together. That's right, tasty breads like pumpkin, banana, poppy seed and cider, too.
Dinner will be available the entire evening, so is you can't arrive by 5:30pm, come when you can.
RSVP if you will be attending HERE!
(If you plan to attend, please sign up by clicking the link above, or contact the church office at 913-345-1256. We want to have plenty of tables and chairs ready, and of course plenty of food, so please let us know you're coming.)