Workshop of Wonders, a VIRTUAL Vacation Bible School!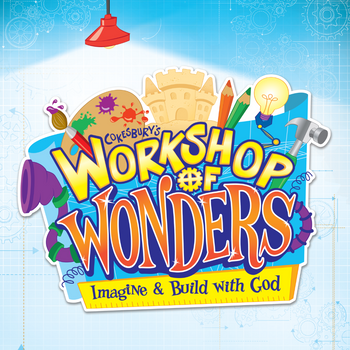 Vacation Bible School, June 1-5
Ages 4 yrs – 5th Grade
Rivet is coming to our Virtual VBS. He's digging a trail to Overland Park and will be here just in time to take us to the Workshop of Wonders where we will imagine how ordinary things can become extraordinary with God! We will meet people from the Bible who used what they had to do amazing things with God. You will use your heart, your mind, and your imagination to participate in this creative Vacation Bible School. It's going to be wonderful – and all online!
Join our special Facebook page with information and highlights of VBS: VBS Under Construction, Grace Covenant Presbyterian, Overland Park, KS
---
Please help our VBS kids in their mission project to support Sunflower House!
Come join our Mission Parade, Sunday, June 7 at 11:30am in the church parking lot. We will use the circle drive and drop off donations under the portico at the Sanctuary entrance. It will be one more chance to see RIvet!
In addition to money, other items to donate are disinfecting wipes, disinfectant spray, AA & AAA Batteries, culturally diverse books and games, sports balls, and personal care items (shampoo, conditioner, toothpaste, lotion, & chapstick). 
Sunflower House - Their mission is to protect children in our community from physical and sexual abuse through education, advocacy, forensic, medical and therapeutic services. Sunflower House is a non-profit that was founded in 1977. It is a non-residential children's advocacy and abuse prevention center serving Johnson and Wyandotte counties.
---
June 5 - Day Five - WALK
Day 5 was about walking with God. The Bible story was about the day two disciples walked to Emmaus. It was Easter day. They were full of sadness over the death of Jesus when a man came alongside and walked with them. When they arrived, they invited the man to join them for dinner and when he broke bread, they recognized the risen Jesus! It's an amazing story. We celebrated all the amazing leaders who made our virtual VBS a success.

---
June 4 - Day Four - WORK

Day 4 at the Workshop of Wonders was about working with God. Our Bible Adventurers introduced us to the story of a young boy who helped Jesus feed 5,000 people with two fish and five loaves of bread! WOW! God really can take ordinary things and make them extraordinary! Music time with Melody Maker is always fun and today we learned "That's What I'll Do." You can find it on YouTube HERE.
Science and crafts have been AMAZING this week with our super site leaders, Andrew and Michelle, who have been leading us through online lessons. The experiments and art projects have been wonderful! Rivet continues to be amazing every day. Today Rivet not only took us to Dr. Wow's lab and the Bible Nook, but began gathering the supplies needed to make new curtains!
As our week comes to a close, we invite you to gather supplies needed for Sunflower House. In addition to money, other items to donate are disinfecting wipes, disinfectant spray, AA & AAA Batteries, culturally diverse books and games, sports balls, and personal care items (shampoo, conditioner, toothpaste, lotion, & chapstick). To learn more about Sunflower House CLICK HERE.
WOW Photo Gallery - Day 4
---
June 3 - Day Three - GROW

Day 3 was all about growing! Grow with God! Gear up! We learned Jesus' parable of the mustard seed and learned how God can take something as small as a mustard seed to grow a large tree that can do much good. Rivet continued working on his flooded house with help from brother Ratchet and Stewart Stuart! Today they were planting an oak tree to help prevent future flooding at Rivet's house. We continue to collect our offering and supplies for the Sunflower House. We will help build the lives of children and youth who have experienced abuse.
WOW Photo Gallery - Day 3
---
June 2 - Day Two - BUILD

Day 2 at the Workshop of Wonders was a very busy day. Rivet's house flooded and needs a lot of repairs. Thankfully, some family and new friends are helping him out this afternoon. Thanks to our amazing storytelling team, Katie and Harold, we learned about the temple in Jerusalem that was destroyed long ago and how Zerubbabel and Nehemiah worked together to make sure it was rebuilt. We keep singing awesome songs with Melody Maker. Today's song, Y-O-U can be found HERE. Check it out! Sandy Paper said that she was going to find Stewart. Maybe he'll visit in the morning! There's a rumor going around that we have new nicknames for Katie and Harold.
WOW Photo Gallery - Day 2
---
June 1 - Day One - IMAGINE

What a great morning at the Workshop of Wonders! It is always better when we're together in person, but it looks like you've been having fun at home! We learned about Esther who was an ordinary girl who saved her people. Color of the day was orange!
WOW Photo Gallery - Day 1