Online worship, Sunday, April 19, 10am
In our online worship we will give thanks to God for the wonder and beauty of the world around us.
"The Earth is Waiting," by Rev. Sue Trigger. PDF download.
We will be live-streaming worship at 10am every Sunday until further notice, on GCPC's Facebook page. Please look for the broadcast to appear on the page on/around 9:55am.  The video will be saved to our Facebook news feed after it concludes.
---
Facebook Live stream video can be found in our news feed or videos section

Click to give your offering online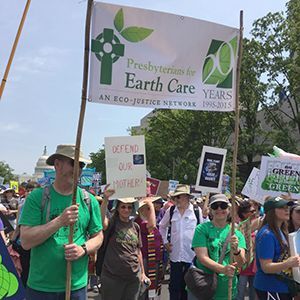 ---
Following our Facebook Live broadcasts, a video of the service, recorded on our sanctuary camera, will be uploaded to YouTube and shared on this page.  We will do this as soon as we can and notify our members through social media that it is available for viewing. We ask for your patience as we continue to be a community during coronavirus.
Some music is reprinted by permission CCLI #1154643 and OneLicense.net #A-705105.
Any videos are shown by permission of CVLI #50408750.
Any Streaming or Podcasts of worship services (including music) in audio or video form are covered under CCLI #2684265.
A Prayer for Our Earth (from Laudato Si')
All-powerful God, you are present in the whole universe
and in the smallest of your creatures.
You embrace with your tenderness all that exists.
Pour out upon us the power of your love,
that we may protect life and beauty.
Fill us with peace, that we may live
as brothers and sisters, harming no one.
O God of the poor,
help us to rescue the abandoned and forgotten of this earth,
so precious in your eyes.
Bring healing to our lives,
that we may protect the world and not prey on it,
that we may sow beauty, not pollution and destruction.
Touch the hearts
of those who look only for gain
at the expense of the poor and the earth.
Teach us to discover the worth of each thing,
to be filled with awe and contemplation,
to recognize that we are profoundly united
with every creature
as we journey towards your infinite light.
We thank you for being with us each day.
Encourage us, we pray, in our struggle
for justice, love and peace.