February 19, 2023 Worship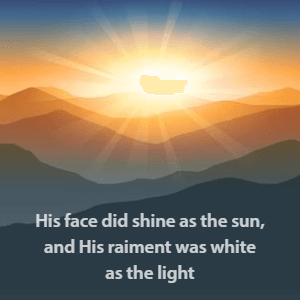 Transfiguration Sunday
Scripture:  Exodus 24:12–18, Matthew 17:1–9
Sermon: "With Eyes Wide Open" by Rev. Mitch Trigger
Music: Musical selections by Chancel Choir and Exaltation! Singers.
Adult Sunday School
10:45 am - via Zoom (link below - click class name in BLUE to go to Zoom link)
February 19 at 10:45am
A combined adult study series that meets in the Choir Room. Led by Joel Ilten.
Zoom in at: https://us02web.zoom.us/j/83829790055?pwd=MnpSL1MwS2VBbWN0OEU5aFJGaTJLdz09
Meeting ID: 838 2979 0055
Passcode: 723297

In selecting real estate, the rule is "Location, Location, Location!" In interpreting the Bible, the rule is "Context, Context, Context!" Interpretation is not merely a fancy or a luxury; it is a necessity. Interpretation may not always be a conscious act, but it is always happening when we read the Bible--or anything else for that matter. And fundamental to responsible interpretation is knowledge of and respect for the context of each of the biblical writings. Joel Ilten will begin with the principal challenges of faithful interpretation. Session 2 outlines three major periods of Biblical interpretation and shows how it has changed over the centuries. Session 3 addresses the question of why people interpret the Bible differently.
---
Some music is reprinted by permission CCLI #1154643 and OneLicense.net #A-705105. Any videos are shown by permission of CVLI #50408750. Any Streaming or Podcasts of worship services (including music) in audio or video form are covered under CCLI #2684265.