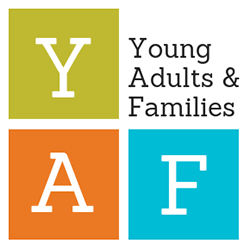 Young Adults & Families (YAF) is for any members of Grace Covenant who consider themselves young adults. Married, single, with or without kids, we have events for YOU!
YAF meet for events throughout the year and connect via a Facebook group.
Contact Katie Hearn or Emily Hussey for more information.
---
YAF Activities Calendar
YAF Holiday Progressive Dinner
December 7th at 4pm: Holiday Progressive Dinner.
We'll start with appetizers at Chris and Erin Frye's (10243 Nieman Pl., Overland Park, KS 66214), then move on to dinner at Hilary and Jake Schmidt's (14455 S. Summit St., Olathe, KS 66062), and end with dessert and hot chocolate at the church in the Youth Lounge.