We have temporarily moved our worship online.
We are living in a difficult moment in time.  National, state, and county emergencies have been declared as the US joins the global fight against the COVID-19 virus.  It is not the size of the gathering, but who is most at risk that we must consider.  As brothers and sisters in Christ, it is our responsibility to show Christ's care for the vulnerable among us and to show them God's love by doing all we can to protect them. 
For that reason, the Session has voted to cancel in-person worship and Sunday school classes until further notice. 
---
Sunday Morning Worship
Worship is one of the most powerful ways we can express our love for God and our gratitude for God's sustaining grace. At Grace Covenant, Sunday worship services involve gathering for prayer, scripture, proclamation, sacraments, offerings, hymns, and songs.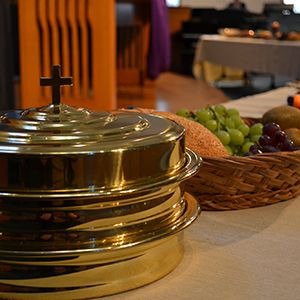 In normal times, we offer two Sunday worship opportunities—a Praise Team led service at 8:50am and a Chancel Choir led service at 11:05am. An education hour is offered between these services along with informal opportunities for fellowship in Heartland Hall.
8:50am Service:  The Praise Team leads the congregation in singing contemporary Christian songs. The Team consists of 3-5 singers backed by a four-piece band including guitar, keyboard, piano, drums, and occasionally bass. Screens are used to project song lyrics, scripture passages, quotes, pictures, or videos to enhance worship. The Sacrament of the Lord's Supper is celebrated the first Sunday of every month and is offered by intinction. A gluten-free option is always provided.
11:05am Service:  The Chancel Choir leads the congregation in hymns from the 2013 PC(USA) Glory to God hymnal with accompaniment by a new digital organ or the grand piano. The Sacrament of the Lord's Supper is also celebrated the first Sunday of every month and is offered by passing the bread torn from common loaves and sharing cups of wine or juice throughout the pews. A gluten-free option is once again offered.
---
Although the worship services at Grace Covenant are an amazing expression of our love and gratitude for God, worship is not limited to a few hours on Sunday. We have several small groups engaging in worship during the week and special worship services held throughout the year. These gatherings allow congregants to lead and participate in worship in more intimate settings.
---