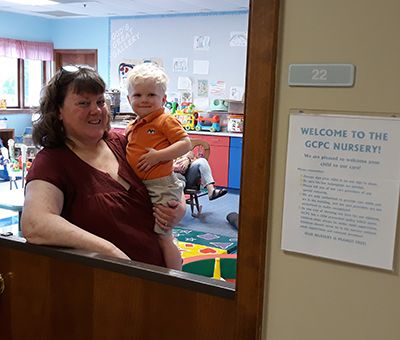 Caring for the littles
Children are always welcome in worship, but we do have child care available for all children infant through 5 years old. Child care is provided on Sundays during worship and during other programs, as needed. Children's worship kits are available at the entrance to the Sanctuary.
Awakening to Worship, for children ages 4 through first grade, is offered at both services. Following the "Come as a Child" moment in worship, children move to this time of learning with their teachers.
Our staff provide a loving environment for children to play and enjoy one another. The nursery and children's classrooms are located in the East wing of the church.  See "Building Map" page for an easy way to navigate to these areas, or ask 
For your child's safety, Grace Covenant Presbyterian Church has a child protection policy. All paid childcare staff and all volunteer teachers complete an information form and have a national background check completed. They also receive training each year. Classrooms have two teachers for safety and supervision.
---
Want to know more?
Contact the church office at office@gcpc.org, or give us a call at 913-345-1256 to inquire additional information about our nursery and child care program.