The Season of Advent
Anticipation and Hope: "Coming Soon"
The season of Advent is upon us, and with it comes the theme that echoes through the halls of the church and resonates in the hearts of its congregation: "Coming Soon."
Advent, the four-week period leading up to Christmas, is a time of reflection, preparation, and joyful anticipation for Christians around the world. At Grace Covenant, the church community has embraced the theme "Coming Soon" as a guiding light, leading them through this sacred season with a renewed sense of hope and purpose.
The phrase "Coming Soon" carries a profound sense of anticipation. It serves as a reminder not only of the historical significance of the birth of Jesus but also of the promise of His return. This dual focus prompts the congregation to reflect on the past, celebrating the arrival of the Messiah, while also looking to the future with hope for the promised second coming.
Throughout the church, symbols of this theme are displayed prominently. Advent wreaths adorned with candles, each representing a different aspect of the season – hope, peace, joy, and love – stand as visual reminders of the anticipation that fills the hearts of believers. The atmosphere within Grace Covenant is charged with a sense of excitement, as members eagerly await the celebration of Christ's birth.
As the season of Advent unfolds, the theme "Coming Soon" at Grace Covenant Presbyterian Church serves as a beacon of hope, guiding the congregation through a time of reflection, anticipation, and celebration. The church community, united in purpose and faith, eagerly awaits the coming of Christ – a celebration that transcends time and connects believers to the timeless message of hope, love, and redemption.
(CLICK name to download PDF file)
In this Advent season, these daily devotions are intended to stimulate thought about God's word. They are written from a layman's perspective with little more training than what many experience in their religious lives. They are offered with love and with hope, that by reading them, you will be motivated to think more about God, to pray more to God, and to draw closer to your loved ones. Based on the Common Lectionary of Year C, the devotions continue through Christmas and into Christmastide then end at Epiphany. The writings are paired with a piece of visual artwork and a bit of music, most recorded on YouTube. Our hope is that your day will be better for spending a few minutes each day. —Compiled and written by Harold Frye, Ed.D., along with others in the church.
---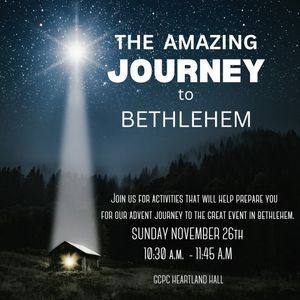 Advent Fair!
Sunday, November 26 at 10:30am
"Amazing Journey to Bethlehem" — this year's Advent Fair event that takes you back in time and place through various clues and activities that help prepare you for the birth of Jesus. Designed for all ages, teams of 3–5 are formed by families, friends, couples, guests, and then directed throughout the church building to discover and complete challenges at various stations all associated with the Advent Season.
---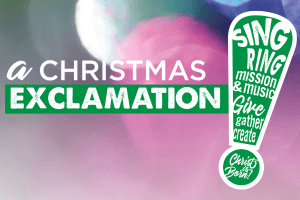 A Christmas Exclamation!
Sunday, December 3rd at 6pm
Hear our 4-year-olds through adults sing & ring Christmas favorites then join in with the congregation to sing Christmas carols & songs. We'll also have as our special guest choir the "Winter Ensemble" from EncoreKC Chorus added to the program. Add in some fun videos & treats for the kids and this fun holiday program is a "don't miss event!"
---
The Longest Night Service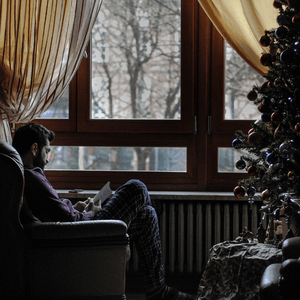 Sunday, December 17, 7pm
One of the greatest acts of pastoral care in the Advent season is to offer a service known as a Service of the Longest Night or a Blue Christmas Service. It's a worship service scheduled around the winter solstice (the longest night of the calendar year) and it just happens to fall on or around December 21st every year. There's a connection between the long nights just before Christmas, and the struggle with darkness and grief faced by those living with loss. This service is not only for those of us grieving the loss of a loved one, but also for those people facing the challenges of illnesses, troubles with relationships or work situations, or any other difficulty that makes it hard to be joyful.
---
Christmas Eve Worship Services
December 24th
Join us for candlelight and carols as we celebrate Jesus' birth.
Christmas Eve Children and Family Service
5:00pm Worship:  This family friendly service will feature our children and youth as they take us to the manger with Joseph and Mary and their newborn son. The youngest worshippers will join in lighting their own glo stick candle with the congregation to sing "Silent Night." Music will include Joy! Singers, Celebration! Choir, A Christmas Eve Handbell Ensemble with ringers Andrew Alka, Elizabeth Bures, Lindsay Callender, and Kat Mason, and Christopher Callender, guitar, will lead "Silent Night."
Christmas Eve Traditional Service
7:45pm Prelude Music:  Including music by Andrea Dover, violin ~ Bob Dover, clarinet ~ Darryl Prater, trumpet ~ and Linda Dover, organ
8:00pm Worship:  This beautiful, traditional service of lessons and carols will celebrate the tenderness and joy of Jesus' birth. The telling of the story will culminate with the lighting of candles as we sing "Silent Night." Music will be provided by Chancel and Exaltation! Singers and instrumentalists.