January 8, 2022 Worship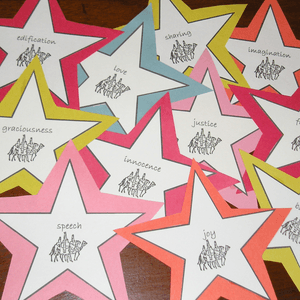 Epiphany, Baptism of the Lord, and Star Sunday
Scripture: Isaiah 42:1–9; Matthew 3:13–17
Sermon: "Resolutions, Promises, and Covenants" by Rev. Sue Trigger
Music: Organ led worship. Kat Mason, flute solo. Chancel & Exaltation! Singers anthem, "How Bright Appears the Morning Star" by Johann Kuhnau, arr. John Leavitt with Donna Heer & Chris Lindsay, violins. Patrick O'Halloran, director.
Mask protocols for this Sunday:   MASKS OPTIONAL 
"Resolutions, Promises, and Covenants" by Rev. Sue Trigger - PDF download.
Adult Sunday School
10:45 am - via Zoom (links below - click class name in BLUE to go to Zoom link)
January 8; Meets in Room 3 and on Zoom; Leadership shared.

Forgiveness is a gift and not a reward. It is how God moves toward us to restore what is broken between us: "I, I am He who blots out your transgressions for my own sake, and I will not remember your sins" (Isaiah 43:25). Thus, when we forgive one another, we participate in God's work or way of being in the world. In this study, participants will consider four acts in the practice of forgiveness.

This is a process we all go through continuously. Together they compose a spiritual practice that is at the heart of Christian life in community. • Name sin • Receive forgiveness • Forgive others • Build a bridge
---
Some music is reprinted by permission CCLI #1154643 and OneLicense.net #A-705105. Any videos are shown by permission of CVLI #50408750. Any Streaming or Podcasts of worship services (including music) in audio or video form are covered under CCLI #2684265.