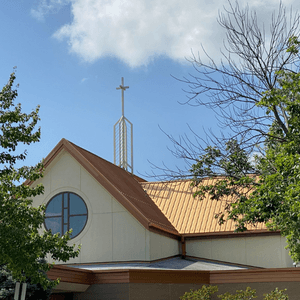 April 30, 2023
9:30am Worship
10:45am Sunday School
Scripture: Nehemiah 5:1–13
Sermon: "History of the Church, Part 1" by Rev. Mitch Trigger
Music: Linda Dover, organ; Bob Dover, clarinet; Chancel Choir
Congregational meeting immediately following worship.
SAVE THE DATE!
Bell Fest XXXIII - Sunday, May 7th, 6pm In-Person, and via Facebook and Zoom. Enjoy familiar tunes from Broadway and Disney musicals!  Dress up in your favorite character's costume and join us for this fun evening of music and mirth! We'll have Disney songs to sing, video clips, a live performance of a show tune, and plenty of ringing by Charter, Jubilation!, Spirit! Ringers, and Celebration! Chimes!
Mask protocols for this Sunday:   MASKS OPTIONAL 
Live stream begins 5 minutes before worship.
Adult Sunday School
10:45 am - via Zoom (link below - click class name in BLUE to go to Zoom link)
Meets in Room 3 and on Zoom; Leadership shared.
The April study will focus on the practice of forgiveness. Genuine forgiveness entails a process that includes naming the wrong that was done or the wrong that was suffered. Forgiveness does not deny the realities of sin: betrayal, violence, anger, jealousy. It ensures that wrongs do not have the last word. The final word in forgiveness is God's grace, available to those who seek to forgive and to move beyond separation and brokenness to restored relationship with God and one another.

Class meets in Room 4. Leadership is shared.
Discussion of questions about our faith and topics that are of interest to our members. Questions were gathered from worshippers and shared with our Adult Education Team and will be reviewed each class session.
---
Some music is reprinted by permission CCLI #1154643 and OneLicense.net #A-705105. Any videos are shown by permission of CVLI #50408750. Any Streaming or Podcasts of worship services (including music) in audio or video form are covered under CCLI #2684265.