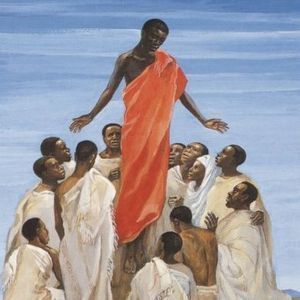 Join us for Online Worship 
Sunday, May 16, 10am
7th Sunday of Easter
Ascension of the Lord Sunday - Scripture – Luke 24: 44-53
Sermon by Rev. Mitch Trigger.
♫ Chancel Ensemble leads us in worship.
Music also shared by:
Chancel Singers I with Bob Dover, clarinet & Donna Heer, violin on the anthem "Hope in Me" by Terre Johnson – (pre-recorded).

Chancel Singers II with Donna Heer, violin – Katie Hearn, flute – Ky Townsend, cello – and Cal Sweeten, dulcimer on the anthem "Shines the Light" by Susan Naus & Lee Dengler (pre-recorded)
This worship service will be shown on GCPC's Facebook page. Please look for the broadcast to appear on the page on/around 9:55am.  The video will be saved to our Facebook news feed after it concludes. The Zoom link is below.
Facebook Live - video begins just before 10am

Click to give your offering online
---
Matthew 25: Vital Congregations Revitalization Study
11:15am on Zoom, following Online Worship (Final Week)
This Zoom online class will be led by a team of members.
Join Zoom Meeting:  https://us02web.zoom.us/j/87220845770?pwd=aFc2OURNb1I4ZEtzcEk4NS9SbkxzQT09  
Meeting ID: 872 2084 5770  Passcode: GCPC2021
---
Some music is reprinted by permission CCLI #1154643 and OneLicense.net #A-705105.
Any videos are shown by permission of CVLI #50408750.
Any Streaming or Podcasts of worship services (including music) in audio or video form are covered under CCLI #2684265.