Worship, September 5, 2021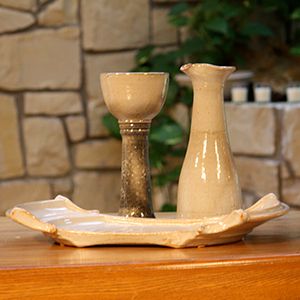 Communion Sunday - First Sunday in the Season of Peace
Scripture:  Proverbs 18:4, 20; Psalm 19
Sermon:  "Three Lines in a Circle" — Rev. Sue Trigger (see details below)

♫ Music by Chancel Quartet. Anthem "This Is My Word" by Pepper Choplin, Charter Ringers I "Come, Thou Fount of Every Blessing" arr. Jason Krug (pre-recorded)  
10:45am Sunday school for all ages!
Fellowship Following Worship: 10:30am Fellowship Time Outside or in Heartland Hall.
"Three Lines in a Circle" by Rev. Sue Trigger
PDF download
Facebook Live stream video can be found in our news feed or videos section

Click to give your offering online
---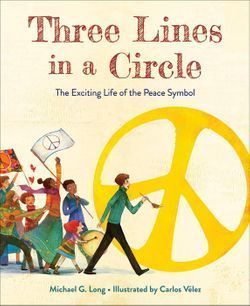 This Sunday Rev. Sue introduced "A Season of Peace" with the theme "Peace Through the Written and Spoken Word."  It was a storybook Sunday using the new Flyaway Book, "Three Lines in a Circle: The Exciting Life of the Peace Symbol" by Michael G. Long. The book is available from Barnes and Noble, Amazon and other book distributors.
Three Lines in a Circle tells the history of the peace symbol and how it became a powerful icon used in marches and movements around the world. CLICK HERE to download a printable dot-to-dot activity sheet that was inspired by the book.
---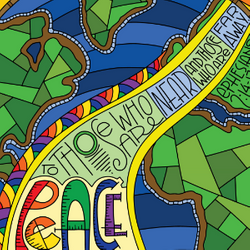 A Season of Peace
This Sunday we began "A Season of Peace" with our PCUSA family.  Path of Peace Daily Reflections are available from the season of peace website - Click Here. You may download them or subscribe for a daily email. 
Help us create a wall of peace outside the sanctuary.
Download the PCUSA theme poster HERE, or pick up a copy from the children's worship bag station on Sunday mornings.  Bring your poster to church and we'll make a colorful wall for A Season of Peace. Copies of larger posters will be in Heartland Hall for you to color during our Fellowship Time at 10:30am. 
Feeling creative?  Color your own symbol of peace to add to the bulletin board. 
---
Adult Christian Education Zoom Links
Confession of Belhar - August 22 - September 12, 10:45am in Room 4, or via Zoom. (Meeting ID: 396 786 3573  Passcode: 805995)
Follow Me — Biblical Practices for Faithful Living, Begins August 22, 10:45am in Room 3, or via Zoom.
---
Some music is reprinted by permission CCLI #1154643 and OneLicense.net #A-705105.
Any videos are shown by permission of CVLI #50408750.
Any Streaming or Podcasts of worship services (including music) in audio or video form are covered under CCLI #2684265.