September 18, 2022 Worship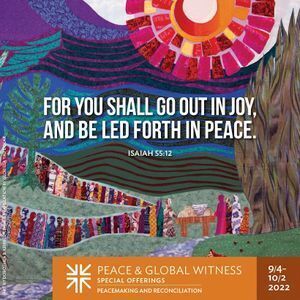 3rd Sunday in the Season of Peace
Orchestra Sunday
Scripture: Psalm 79:1–9; 1 Timothy 2:1–7 
Sermon: "Give Peace a Chance" by Rev. Mitch Trigger
Music: GCPC Orchestra, Pam Smith Kelly, director; Organ Led; Chancel & Exaltation! Singers;  Anthem: "I Sing the Mighty Power of God" arr. Benjamin Harlan  
About the 2022 Season of Peace
September 4 – October 2, 2022
This four-week pilgrimage is designed to deepen the pursuit of peace for congregations, small groups, families, and individuals. Participants are invited to define and deepen their calling as peacemakers. This season is a time of encouragement, challenge, inspiration, and education.
Workship Sunday is October 16  Sign-up here!
Mask protocols for this Sunday:   MASKS OPTIONAL 
Six community service projects, One great day of giving! Sunday, October 16. Sign-up for Workship Sunday at link above.
The Path of Peace Daily Reflections are written each year to be used during A Season of Peace, the 4-5 weeks leading up to World Communion Sunday, or anytime during the year. The 2022 theme for the offering and the devotions is from the book of Isaiah: You shall go out in joy and be led forth in peace (55:12 ESV). This year's devotions cover four areas of peace work: climate change, non-violence, the intersection between race and poverty and issues of immigration and migration. Click title to download PDF.
Adult Sunday School
10:45am in Heartland Hall - No Zoom access this week.
GA in Review and the Fossil Fuel Divestment Overture

September 18; Meets in Heartland Hall

Rev. Mitch will share about his experience as a commissioner to the 225th General Assembly of the PCUSA. He will also address one of the most publicized and controversial overtures regarding divestment from several fossil fuel corporations. The presentation will be held in Heartland Hall.
---
Some music is reprinted by permission CCLI #1154643 and OneLicense.net #A-705105.
Any videos are shown by permission of CVLI #50408750. Any Streaming or Podcasts of worship services (including music) in audio or video form are covered under CCLI #2684265.