May 1, 2022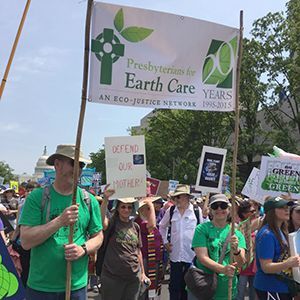 Earth Care Sunday!
3rd Sunday of Easter
In-Person and Online Worship
Scripture:  Psalm 30, John 21: 1-19
Sermon:  "Hiding Behind the Numbers," by Rev. Sue Trigger
Music:  Led by Praise Team 
We celebrated Earth Care Sunday in worship. GCPC is an Earth Care Congregation.  Earth Care Congregations are congregations that have committed to the "Earth Care Pledge" and accomplished a specific number of actions toward caring for God's earth in four categories: worship, education, facilities, and outreach.
Mask protocol for this Sunday:   MASKS OPTIONAL  
Live stream begins 5 minutes before worship.
VBS, June 6-10. Click title to sign up!
Adult Sunday School, 10:45am
A representative from Presbyterian Disaster Assistance (PDA) will join us during the Adult Sunday School class following worship. He'll tell us more about the mission of PDA and its current activities. PDA will have just finished their national meeting in Kansas City (April 26–May 1). Presbyterian Disaster Assistance enables congregations and mission partners of the Presbyterian Church (USA) to witness to the healing love of Christ through caring for communities adversely affected by crisis and catastrophic events. PDA is the emergency and refugee program of the Presbyterian Church USA. The core budget, including staff and administrative costs, is funded through the One Great Hour of Sharing, and its program work is additionally funded through designated gifts.
Zoom Link: https://tinyurl.com/krd5pz84
---
Bell Fest XXXII
Join us for Bell Fest XXXII on Sunday, May 1 from 6-8pm!
In-person, on Facebook and Zoom
We'll have lots of joke telling, fun songs to sing, funny video clips, and plenty of ringing by Charter, Jubilation!, and Celebration! Ringers!  We'll also be collecting toothbrushes and toothpaste to donate to Crosslines so others can have a beautiful smile!

---
Some music is reprinted by permission CCLI #1154643 and OneLicense.net #A-705105.
Any videos are shown by permission of CVLI #50408750. Any Streaming or Podcasts of worship services (including music) in audio or video form are covered under CCLI #2684265.