August 7, 2022 Worship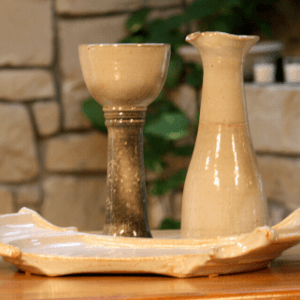 Communion Sunday
9th Sunday after Pentecost
Scripture:  Exodus 24:3–8, 12; Proverbs 18:21  
Sermon: "This is Who We Are, Part 1: The Bible" by Rev. Sue Trigger
Music: Organ led worship. Anthem: "I Love to Tell the Story" arr. John Leavitt. The anthem was sung by Summer Chancel and Exaltation! Singers We also welcomed Arnold Rawls, tenor to sing in worship on August 7th. Arnold portrayed the leading tenor role, Calaf, in Puccini's "Turandot" in the Lyric Opera of Kansas City's first season in the Kauffman Center. Go to www.arnoldrawls.com to read more about Dr. Rawls' operatic accomplishments.
Mask protocols for this Sunday:   MASKS OPTIONAL 
"This is Who We Are, Part 1: The Bible" by Rev. Sue Trigger. PDF download.
Adult Sunday School
10:45am in Heartland Hall
Intergenerational Sunday School

Intergenerational Sunday School - 10:45am in Heartland Hall // School supply list: pencils, notebooks, backpacks and….lunches! Many of us take a lunch to school or
work, or buy fast food or convenience foods for lunch. A lot of foods use disposable packaging, which adds to the plastic pollution problem. Join us August 7th for a Sunday school class on low-effort, no-waste lunches for kids, adults, and anyone else who likes a tasty & sustainable noon meal. Part of our year-long series on Caring for Creation, this class in Heartland Hall will include a presentation by Mikki Walker and time for questions and discussion.
August 7 at 11:45am in Room 3.  Bring your own lunch.
We Are All in This Together: A Year Exploring God's Creation

Join us for this Summer Lunch and Learn Studies - FINAL WEEK!
• The group will meet on Sunday', August 7 at 11:45 a.m. in Room 3. Bring your own lunch. You may also join virtually: https://us02web.zoom.us/j/84193985803?pwd=Vca5Y_TBYdkuqzMsxIt4X1eIy5-7-_.1 Meeting ID: 841 9398 5803; Passcode: 207196

We are reading Inhabiting Eden: Christians, the Bible, and the Ecological Crisis by Dr. Patricia Tull for our summer book group. In this thoughtful study, respected Old Testament scholar Patricia K. Tull explores the Scriptures for guidance on today's ecological crisis. Tull looks to the Bible for what it can tell us about our relationships, not just to the earth itself, but also to plant and animal life, to each other, to descendants who will inherit the planet from us, and to our Creator. She offers candid discussions on many current ecological problems that humans contribute to, such as the overuse of energy resources like gas and electricity, consumerism, food production systems—including land use and factory farming—and toxic waste.
---
Some music is reprinted by permission CCLI #1154643 and OneLicense.net #A-705105.
Any videos are shown by permission of CVLI #50408750. Any Streaming or Podcasts of worship services (including music) in audio or video form are covered under CCLI #2684265.