Online Worship, Sunday, September 27, 9am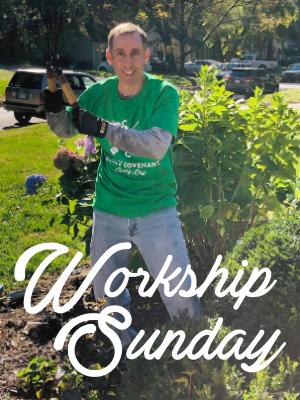 Workship Sunday and Reception of Confirmands
On Sunday September 27 we celebrated Confirmation. Joining the church are: Connor Chaffin, Andrew Cox, Hank Peck, Nadine Peck, Max Passett, Lauren Smith, and Jaylee Soule. Their mentors this year were Liz Chandler and Jake Schmit. Sunday morning leaders were Kevin Johnson and Gingie Watt.
We also held our second Workship Sunday event. This year was a little different from last year due to the public health emergency. We started with a brief online/in-person worship service at 9:00am. At approximately 9:30am, members went out into the community for service projects.
Fall 2020 Projects:
- Friends of JCDS Group Home Maintenance
- Tied Fleece Blankets for Safehome
- City of Olathe Stream Clean-Up
- Hope Distribution Center for Catholic Charities
- Bread For The World Letters
A few photos from Workship Sunday
---
We are also in Week 4 of the Season of Peace
This four-week pilgrimage is designed to deepen the pursuit of peace for congregations, small groups, families, and individuals. 
Week 4 September 27-October 4:  Wholistic Peace
Follow along with many resources on the Presbyterian Mission Agency website HERE.
Download the Path of Peace reflections HERE.  They are designed to help participants explore practices for building peace on every scale. From the personal level to global issues, these reflections and prayers will help grow the faith and witness of the whole church.
---
---
Facebook Live - video begins just before 10am

Click to give your offering online
We will be live-streaming worship at 10am every Sunday until further notice, on GCPC's Facebook page. Please look for the broadcast to appear on the page on/around 9:55am.  The video will be saved to our Facebook news feed after it concludes.
---
Some music is reprinted by permission CCLI #1154643 and OneLicense.net #A-705105.
Any videos are shown by permission of CVLI #50408750.
Any Streaming or Podcasts of worship services (including music) in audio or video form are covered under CCLI #2684265.